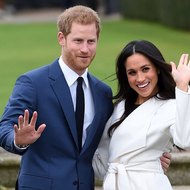 New year, new baby… new home!
Prince Harry and Meghan Markle are moving away from Prince William and Kate Middleton, PEOPLE has confirmed.
Just weeks after it was announced that the Royal Fab Four were considering breaking up their joint "court" at Kensington Palace, Harry, 34, and Meghan, 37, have decided to make the move, their office announced on Saturday. The news was first reported by Emily Andrews of The Sun.
The Duke and Duchess of Sussex, who are expecting their first child in the spring, will move into Windsor Castle's 10-bedroom Frogmore Cottage, close to the house where their evening wedding party was held and where their engagement photos were taken about a year ago. Windsor, located about 30 miles west of London, is a "special place" for the couple, their spokesman says — and was, of course, the setting for their wedding in May.
The Sun reports their new Home Park residence will also feature a nursery and space for a personal gym and yoga studio — which Meghan has been known to be an avid fan of.
Harry and Meghan have lived in Kensington Palace's Nottingham Cottage since their engagement — but that two-bedroom home was never likely to be a long-term residence especially once they had children.
Their office says in a statement released to PEOPLE, "The Duke and Duchess of Sussex will move to Frogmore Cottage on the Windsor Estate early next year as they prepare for the arrival of their first child. The couple have lived at Nottingham Cottage since their engagement last year."
"Windsor is a very special place for Their Royal Highnesses and they are grateful that their official residence will be on the estate," the statement continues. "The Duke and Duchess's official office will continue to be based at Kensington Palace."
The cottage will need some renovations, as it is currently divided into five units as home to the palace staff.
Meghan and Harry, who heads to Africa solo for two days on Monday, also have a home in the Cotswolds, which serves as an escape from London and where they spend most weekends. They may have spent Thanksgiving together there.