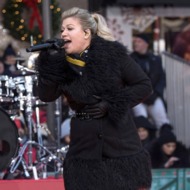 The 92nd annual Macy's Thanksgiving Day Parade delivered a terrific 23.7 million viewers last week, according to NBC which released the numbers Tuesday. The parade also received a big 6.0 rating among adults 18-49.
That's more viewers and a higher demo rating than any other entertainment program since the Oscars last March. It's the third biggest entertainment telecast of the year behind the Academy Awards and NBC's telecast of a post-Super Bowl episode of This Is Us.
The parade easily outperformed last fall's Emmys and beat the Grammys for the first time in history in adults 18-49 (the parade topped the music awards in total viewers too, though that's happened before, in 2009).
The parade was about on par with last year, which was also strong, and ranks as the 4th biggest audience for the event in modern Nielsen history.