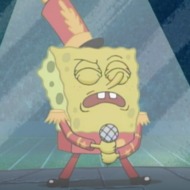 Spongebob Squarepants
' creator may be gone, but he's far from forgotten.
A fan's petition has garnered nearly 300,000 signatures as of this writing asking the NFL to have "Sweet Victory" performed at the next halftime show, Fox News reports. Spongebob performed the '80s-style power ballad at the fictional Bubble Bowl in the episode "Band Geeks."
Maroon 5 is reportedly playing Super Bowl LIII's halftime show in February, but "maybe the petition will inspire Adam Levine to belt out a few lines of the song in Hillenburg's honor," says Vice.
"At least 50,000 people out there know it's the right thing to do."
Spongebob creator Stephen Hillenburg died Monday of ALS at age 57. (Read more SpongeBob stories.)