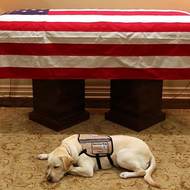 President George H.W. Bush's loyal companion remained by his side Sunday night — his service dog, Sully, keeping watch until the very end … and beyond.
In one of the more moving images since the 41st President's passing Friday night … Sully was pictured laying in front of Bush's casket in Houston, ahead of its Monday flight to Washington, D.C. The former Prez will lie in state at the Capitol until Wednesday, and Sully will be heading back east as well.
The service dog was assigned to former Prez Bush back in June.
A Bush spokesperson tells TMZ … when Air Force One lands in Washington, Sully will be returned to America's VetDogs and he will miss all of the memorial services to prepare for his next assignment.
We're told Sully will spend the holiday season in New York with America's VetDogs before moving to Walter Reed National Military Medical Center's Facility Dog Program. Sully will work alongside fellow service dogs SGT Dillon and SGT Truman "to assist with physical and occupational therapy to wounded soldiers and active duty personnel during their journey to recovery."
A rep for Walter Reed tells us … Sully won't be assigned to an individual veteran on site, and he will be a "roving" dog in the program, providing support, comfort and helping to reduce stress for wounded soldiers and their visitors. Sully will have a handler who will take him home each night.
We're told the Bush family is welcome to visit Sully whenever they want, and the facility would be "honored" if the President's family came to visit.